Friday, January 2, 2009
Posted by Vincent Ferrari in "Apple Thoughts Site Updates" @ 01:00 PM
"Turbo.264 is a powerful hardware encoding device that quickly converts any video to the advanced H.264 (MPEG-4) format without using your Mac's resources. Work, watch TV and surf the web while you encode video with no reduction in processing speed. Turbo.264 supports many third-party Mac video applications as well as EyeTV. Turbo.264 also comes with its own software to quickly drop any video into iTunes to sync with an iPod, iPhone, and Apple TV."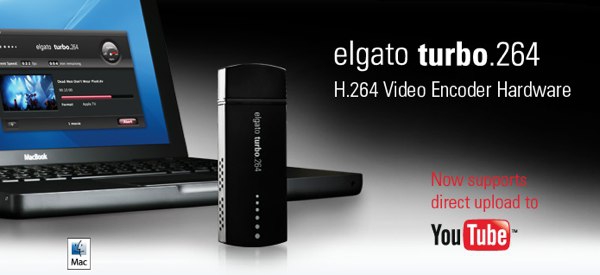 One of the first reviews I wrote for the Apple Phone Show (and for Digital Home Thoughts) was the Turbo.264. Frankly, it's one of the few products I've ever tested that didn't make over inflated claims it couldn't match in the real world. Even though it claims it accelerates H.264 encoding dramatically, and your mind may boggle that it only plugs into a USB port, it really does do exactly what it says it does; a refreshing change in the tech world.
So what better way to prove it than to give one away?
The rules for this one are really simple.
We all need a laugh. The economy is in shambles, unemployment is high, and people are in a funk. We need to be broken out of that funk and here's how we're going to do it. You're gonna share your favorite funny (and relatively clean, please) viral video in the comments of this post (just a link is fine, you don't have to embed anything). On Monday, January 12th, we will pick one winner at random from the comments section to win the Turbo.264 and get on their way to faster happier H.264 encoding.
That's it. Really simple, right? Here are the rules in brief...
1. Post a comment on this post with your favorite funny viral video. Entry deadline is 11:59pm Eastern Time January 11th.
2. One winner will be chosen at random from the received comments on January 12th.
3. All decisions are final.
4. NO WHINING.
Good luck, and make us laugh, will ya?
---