Tuesday, December 23, 2008
Posted by Vincent Ferrari in "Apple Thoughts Site Updates" @ 07:00 AM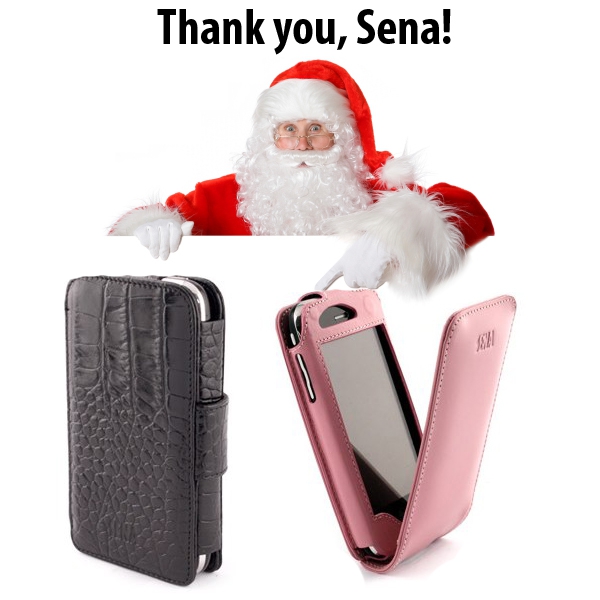 Sena has been kind enough to give us some great cases to give away for the iPhone and iPhone 3G! Shown above are the Magnet Flipper case in Pink and the WalletBook Case in Croco Black. We have a lot more to give away from Sena, too! Here's the full inventory:
Ultraslim Pouch for the iPhone / iPhone 3G in Black
Elega Pouch for the iPhone / iPhone 3G in Croco Black
3G Dockable Case for the iPhone 3G in Tan
Magnet Flipper for the iPhone / iPhone 3G in Pink
Walletskin for the iPhone 3G in Croco Red
Walletbook for the iPhone 3G in Croco Black
That's a total of six cases we have to give to you, our lucky readers. Now here's how we're going to do it.
Remember yesterday when we told you to join Twitter? Well we're going to put that membership to use today. Entering is a two-part process.
1. Leave a comment here detailing your biggest horror story of phone / iPod / camera accessory damage that a case would've prevented you from having. Any small electronic horror story will suffice. The juicier, the better. We want to cringe at the mere mention of the carnage. Photos of the damage are a total plus. Make us feel your pain.
2. Go to Twitter and tweet the following: @applethoughts is giving away Sena cases to keep my gadgets safe. Check out applethoughts.com. It MUST match that line down to the punctuation. We will be verifying the tweets using an automated system. If it doesn't match exactly, it won't show up. When we pick the winning story, we'll double check your twitter account to make sure you've posted this little nugget; if you don't post it, you don't win!
On December 31, the editorial staff and I will huddle up and choose a winner based on who makes us cringe the most. The winner will receive their choice of two of the six cases. The first runner up will be able to choose one from what's left. All decisions are final and we expressly forbid whining. We will ship the prizes to you somewhere in the first week of January and we'll get in touch with you to arrange shipping of your goodies.
Remember:
1. Write the comment.
2. Write the tweet.
3. All decisions are final.
4. No whining.
Now get to it! Make us cringe!
And just so you know, this is just the beginning of what we have to give away. I have a box full of good stuff waiting for a new home!
---